We define general purpose SDR software as programs that make RTL-SDR work like a normal broadband radio receiver. The 2 most used programs are;
SDR # (pronounced "SDR Sharp") is the most popular free RTL-SDR compatible software currently used. It is relatively simple to use compared to other SDR software and has a simple setup procedure. We offer a complete overview of the installation procedure on our Quick Start Page. SDR # is designed to be used with $ 199 Airspy SDR, but works fine with RTL-SDR.
SDR # is an easy-to-use program with some advanced features. It has a useful modular plugin-type architecture and many plugins have already been developed by third-party developers. Basic SDR # download without any third-party plugin includes a standard FFT screen and waterfall, a frequency manager, recording plugin and a digital noise reduction plugin. SDR # also decodes RDS signals from broadcast FM.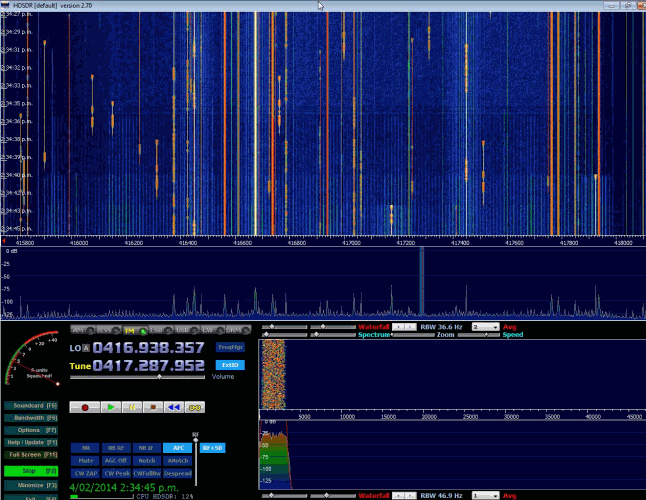 HDSDR is based on the old WinRAD SDR program. HDSDR supports RTL-SDR using Extio.dll module. To install HDSDR, download the program from the link on the main HDSDR page, then to use the RTL-SDR, you need to place the ExtIO_RTL2832.dll file in the HDSDR folder. When opening HDSDR, select the newly copied ExtIO_RTL2832.dll file. Although the file names have RTL-SDR, other dlls that come with HDSDR do not work with RTL-SDR. You can find the official installation instructions here.
Besides an FFT screen and waterfall, HDSDR has some extra advanced features. Users will also find an Audio FFT and waterfall screen at the bottom of the screen. The output sound can also be filtered with a band-pass filter by dragging the filter borders on the screen. Filtering the band sound can help clear a really loud signal. Audio processing also supports the placement of notch filters manually or automatically. There are also noise reduction and noise reduction features and an automatic frequency centering algorithm that will center the signal automatically, so you don't have to click right in the middle of a signal. Traditional amateur radio users will also measure S-units signal strength and enjoy the built-in frequency manager.
Source:  rtl-sdr.com